Like a whirlwind, the 2021 holiday season rushed by, and now a new year is upon us.
January is known as Sanctity of Human Life Month, and this year marks 49 years since the Roe v. Wade Supreme Court decision legalizing abortion in America. Since that ruling, more than 63 million unborn lives have been lost. Yet, the pro-life movement continues to gain momentum.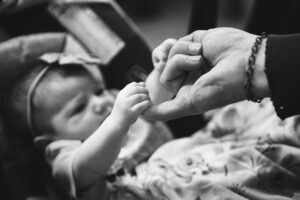 Major Moves
Similar to last year when numerous pro-life bills were passed in many state legislatures and were signed into law, 2022 appears to dawn with anticipation as the Supreme Court is expected to hand down a ruling in the Dobbs case before summer.
The Court took up the case in 2021, hearing arguments from both sides in early December, a move many in the pro-life community view as a positive step. One writer penned these words in a Live Action article: "The fact that the Court agreed to hear the case in the first place indicates that it is ready to issue a change in abortion-related decisions. If the Court intended to strike down Mississippi's law and reaffirm Roe v. Wade, it could have accomplished that by refusing to grant the request for a hearing. The Court's hearing of the case gives a strong indication that at the very least the Court intends to uphold the constitutional validity of Mississippi's 15-week protection."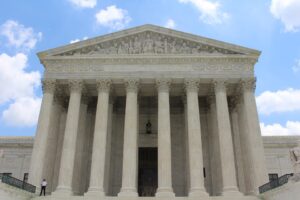 The Justices also listened to arguments regarding the Texas heartbeat law, letting the measure stand but also allowing for lawsuits on other aspects to possibly proceed. Many people anticipate a potential reversal on Roe, with legislation regarding access to or limitations on abortion left up to each state. No matter what happens in the future, pregnancy centers will always be needed, and that's another reason to celebrate Sanctity of Human Life Month – to honor and bring awareness to the work God does through centers like True Care.
For example: a center in Michigan launched not just a fatherhood program in 2021, but an entire facility for men. Meeting young fathers where they are in a neighborhood known for gangs and fatherlessness, the mentors take these guys under their wing, providing friendship, fellowship, and discipleship. Other centers, such as one in North Carolina, help women who are trafficked in the sex trade while another in that state serves a military community and trafficked victims.  
Casper Celebration
This year marks 35 years since True Care opened its doors in Casper. Known then as The Caring Center (still our corporate name), we have served countless women, including more than 250 last year alone. Thousands of babies have been saved from abortion, thousands of women shown compassion and educated on what abortion truly is, and thousands of families helped by our materials assistance, in-house programs, and community referrals. We celebrate these milestones, thanking God for His guidance and strength. We are grateful to our community of supporters for keeping this ministry thriving.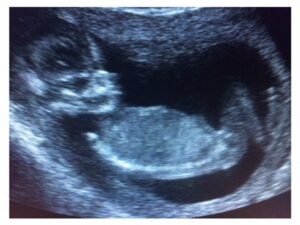 We also celebrate God's miracle of life. Each day we are open, our nurses show the miraculous truth of His creation via ultrasound.
On Saturday, January 15, our community's annual March for Life takes place. Beginning with a mass at St. Anthony's Catholic Church at 8 am, followed by a March downtown at 9 am, the Knights of Columbus chapters and Natrona 4 Life will lead a parade of pro-life supporters, peacefully signifying that life is precious, moms are loved, and families are honored. We encourage you to join in this event.
Additionally True Care's annual Baby Bottle Boomerang kicked off this month. This has been our winter fundraiser for decades, and we appreciate every coin, dollar bill, and check received. This is a great way for families to come together in honor of life, helping the women, their unborn, and fathers of babies in so many ways, from pregnancy options education and medical services to parenting programs and needed resources. Your family can make a big difference in another (new) family's life through this fundraising campaign.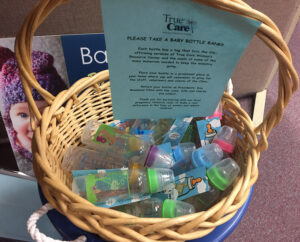 National and State Celebrations
The National March for Life in Washington DC happens Friday, January 21, and Students for Life will host a National Pro-Life Summit the next day. Speakers for that event include former vice president Mike Pence, Students for Life president Kristen Hawkins, and Alveda King, niece of Martin Luther King, Jr. and pastoral associate for Priests for Life. The event may be live streamed again this year; learn more here: https://prolifesummit.com/live-stream/.
Additionally, Right to Life of Laramie County will hold a Celebrate Life March in Cheyenne on Saturday, January 22. The event starts at 11:30 am at the Cheyenne Depot. Learn more here: http://www.prolifecheyenne.com/events.php.
Sanctity of Human Life Sunday occurs on Sunday, January 23. Many church pastors speak on issues of life, including abortion, on this day. This is also a good day to pick up your baby bottle at church if you haven't done so already. If your church doesn't have baby bottles available or you're attending church online, stop by True Care this week to pick up a bottle at the office. The fundraiser runs through President's Day weekend.
Let us continue to pray for the unborn, their mothers and fathers, pregnancy centers throughout the U.S. and abroad, and the pro-life movement, as well as lawmakers everywhere.